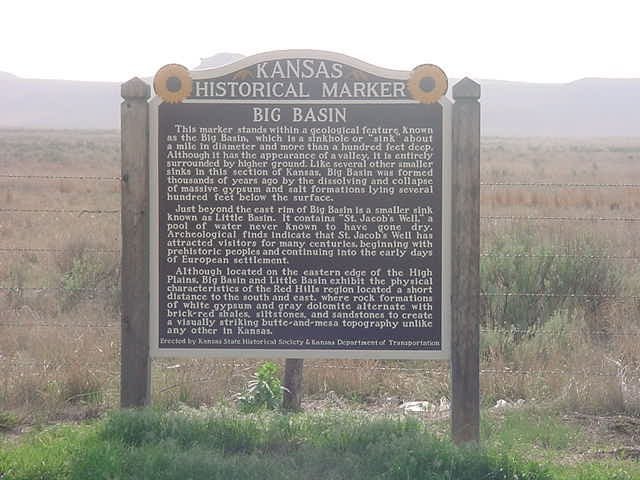 Kansas Historical Marker
Big Basin
This marker stands within a geological feature known as the Big Basin, which is a sinkhole or "sink" about a mile in diameter and more than a hundred feet deep. Although it has the appearance of a valley, it is entirely surrounded by higher ground. Like several other smaller sinks in this section of Kansas, Big Basin was formed thousands of years ago by the dissolving and collapse of massive gypsum and salt formations lying several hundred feet below the surface.
Just beyond the cast rim of Big Basin is a smaller sink known as Little Basin. It contains "St. Jacob's Well," a pool of water never known to have gone dry. Archeological finds indicate that St. Jacob's Well has attracted visitors for many centuries, beginning with prehistoric people and continuing into the early days of European settlement.
Although located on the eastern edge of the High Plains, Big Basin and Little Basin exhibit the physical characteristics of the Red Hills region located a short distance to the south and east, where rock formations of white gypsum and gray dolomite alternate with brick-red shales, slitstones, and sandstones to create a visually striking butte-and-mesa topography unlike any other in Kansas.
Erected by Kansas State Historical Society & Kansas Department of Transportation.